Introduction
When one looks at a stream or water, or a waterfall, the water looks like chaos. But, if you pick a point far enough upstream, to follow the same point as fast as the stream is flowing, one's perspective seems to change. A simple pattern seems to be stable all the way downstream. Most people, seemingly, don't stop themselves to think about things.
People are more like the grunion, fish of La Jolla that are so tuned to the environment, they nest and mate to certain celestial rhythms of the seasons. Most people are conditioned and absorbed in their culture. In twenty-first century realities, if one is born in an originally Christian country, that person learns to believe in Christianity; otherwise, they won't be liked. Likewise for people born in predominantly Muslim countries will believe in the Koran. ?Those who are born in Asian countries will believe in Hinduism/Confucianism,/Buddhism - whatever religion the country started from.
Mankind's intelligence separates itself from the other living intelligence of the Earth by breaking free from these mechanical lockstep adaptations. Mankind is distinguished, hence defined, from the other Earthly life, by it's dependence on science and technology for survival. In fact, for it's ability to do science and engineering. A person who hasn't seen or knows this has not stopped themselves to look and think - like seeing the simple stable pattern in a flowing stream. My Gospel of Truth is about stopping oneself - questioning assumptions/making connections.
People like to think that what they see in terms of visual senses is what the world is really like. James Maxwell's elucidation of the electromagnetic nature of light is enough to dispel that notion. Maxwell's discovery showed that light comes in many other wavelength's as well - infrared, ultraviolet, x-rays, and gamma rays. Maxwell's discovery was the greatest physics discovery since Isaac Newton; but, getting back to the point. We cannot get at nature directly. We have to infer nature indirectly.
Our eyes see with discreet rods and cones that can only see some wavelengths of light. We've had to use facts and logic to straighten out our conditioned perspective. We have to establish boundaries, or error rates for which things apply or not. Scientists use terms like accuracy and precision of measurements. Accuracy refers to how accurate your measurement is to a known or theoretically calculated quantity. Precision is how close each measurement is to one another. Mathematicians have a reversible definitions idea for mathematical definitions. If one can reverse the definition, and mean the same thing, then the concept is well defined. Jacob Bronowski argues, and I agree with him, in his, "Origins of Knowledge and Imagination", that the universe is this infinitely detailed whole. Any cut in it can only be an artificiality. But, clearly, mathematicians have found that one can restrict the field of applications of a concept to a certain time and place. Of course, in time, as structures, or concepts, influence one another in this energetic universe, things influence one another, and one has to revise, or generalize concepts. Getting back to restricting ideas in a certain time and place . . .

Jacob, once again in his 'Origins' book mentioned above, suggests that when one makes a cut, establishes a boundary, for however fleeting a moment of applicability, certain undefined terms fall out. He considers concepts like inertia, electron, atom, the sun centered solar system really, are of this nature. We didn't first build a spaceship, launch it to some polar position, look down, and say, "look, the sun is the center of the universe." As described above, we decoded it out of noticing that the Sun seemed abnormally large compared to the other 'planets'. The phase of the moon seemed to point to the Sun. And, the planets seem to precess; they stop their forward movement, loop backward, and then move back forward again. What one does is dam up nature - like a hydro-electric dam. And in so doing, one generates electricity. I've noticed an analogy between Jacob Bronowski's ideas in his 'Origins' book and some connections ideas in James Burke's 'Connections' book and video series.

In James Burke's Connections(and this is an idea in archaeology and anthropology long before), agriculture leads to technologies. Clearing the fields(I mean like 'slash and burn' to remove everything except the plants desired to grow) and having to farm introduces one to problems of irrigation, pest control, and fertilization. I'm equating these to the new undefined terms that Jacob Bronowski is pointing out above. Also, agriculture, once it gets established frees up the populace to do other jobs, or ideas. Jobs/Ideas like a military, a scribe to keep track of taxes, business people, priests, rulers, and mathematicians. The farming is predicated on the seasonal cycles. So, one needs a calendar, and an astronomer and mathematicians.


James Burke notes some more things in episode/chapter two and three. In episode 2, Guericke is found producing the first vacuum, and doing all sorts of amazing things with it. He keeps two hemisphere's of a ball together by a vacuum. A vacuum so strong that two horses can't pull it apart. He then notes that Guericke presents his vacuum to a German prince. And he shows that mice suffocate in it/bell's don't make a sound when you try to ring it/fire goes out. In episode 3, he shows how the horse takes center stage for all kinds of technologies and is the basis for the second half medieval Europe economy. There's the horseshoe, the neck brace for the Horse, and the stirrup and saddle for the Horse rider. Then, there's the Knights armour. But, these are all very concrete technological ideas. What's the connection between the concrete technological world and abstract mathematical ideas such as number, one-dimensional lines that don't really exist beyond our heads?

I'd suggest as Susanne K. Langer, in her "Introduction to Symbolic Logic" does the difference between constituent relations and logical relations. Constituent relations are like the verbs in a sentence. Logical relations are like conjunction/disjunction/inclusion of deductive reasoning. These are similar relations to set theory relations of union/intersection and equality of sets. And, as mathematicians noted in the eighteen hundreds, numbers are like equivalent sets.

Numbers are the abstract identity of equivalent, or analogous sets - apart from there concrete manifestations. Like there's a couple of apples, and a couple of oranges. The apples and oranges are concrete manifestations of the abstract concept of number two. Everything has a structure. a Relation with parts that makes sense with respect to that relation. There's binary relations, and relations that can take on three parts, or terms. For instance, between is a triple relation because something is between two other things. You would never say 'love between john'. But, within a given relation, say Jane loves John, there's a whole set of terms, or parts, that makes sense with the love relation. You could even say Ferrari loves racing. But, taking the relation, the binary form from all it's concrete manifestations is what Symbolic Logicians and Mathematicians call an abstraction.

When we present a specific instance of a concept, we're thinking of it in a very specific context. If I just mention some verb like running, you think of either Paul is running away from something. Or Paul is running the show. Something very time specific. Only by noting the general concept, does the concept go beyond the very time specificity of this or that structure. When humanity first started noting ideas, the ideas were very provincial. The number two was associated with male and female properties. As ideas are generalized, they strip themselves from imprints of their origins.
As scientific philosophers have noted many times over the centuries since Copernicus revived Aristarchus's theoretical insight, each such insight removes humanity from its ethnocentric philosophies. We are no longer the center of the universe.
As Arizona astronomers noted, the Papago Indians, or what they like to call themselves, the Tohono O'odham people, believed that Baboquivari Peak was the axis of the universe.
Former Manhatten project physicist(he was one of the physicist who figured out how to make radioactive lenses that makes for implosion force to set off a neutron cascade - a nuclear bomb) makes an appearance in perhaps Carl Sagan's first science documentary effort - The Violent Universe. At the end, Philip Morrison explains the Tohono people's provincial ideas in relation to the latest Big Bang cosmology. How the further back in time and space that our generalizations/theories apply, the less provincial our theories become. How, the arrangement of atoms that went into the plant he was handling was only true for a few years. How his arrangement as a person was only true for a few decades, and how the arrangement of atoms in a rock are true only a few millions of years. This is the case for rocks on the Earth, which has active tectonic plates and rocks get recycled. On the moon, the arrangements of rocks goes back billions of years. Then, the structures of atoms goes back to the big bang – or based on the Hubble Space Telescope data – 13.7 billion years.
-- Those who are into their respective religions for anti-science reasons(there's lots of reasons why a person believes in this or that religion. Some believe it's about spirituality, others believe its abut ethics, some are just socially bound up. Some are anti-science.) will often portray the growing science and technological world as leading to a kind of communist dystopian nightmare. A dystopia where everyone is close in a city away from the real world. Where government surveillance leads people to a military regimented lifestyle. If you as much as think contrary to what the dictator, shut off in some dark corner somewhere says, you get punished in various ways. The supporters of the dictator use propaganda and 'historical revisionisms" to manipulate the public. As I explained above, science progresses by individuals who question the status quo, and what our current perspective sees. The fact that the anti-science forces of the world miss this point says a lot about their psychology.
Anyways, I'd argue it's religion that is dystopian. Consider the religious monasteries, high up on some mountain - secluded from the world,
I like this one from the James Bond film, "for your Eyes Only",
Monastery of the Holy Trinity, Meteora
James Burke finds a Buddhist monk city up high in some mountains in episode 10 of his "The Day the Universe Changed." They have these prayer wheels, which the those who can't read use. There's small ones down on the streets. And, then there's a temple, with many levels that initiates go through. At the very top, is a human sized prayer wheel.
- here's some "prayer wheels",
James Burke finds that the Buddhists teach everything is relative, so it's not worth learning.
Jacob Bronowski points out in chapter 13 of his "Ascent of Man"(23:50) that most people are conditioned to think nothing of more than what they're culture tells them to. They only aspire to be like their father/mother. Things like the accent/tone of voice is a conditioning; but, also ways of thought; kids carry themselves like their parents and culture in general. They are essentially like the drones of a bee hive, forever repeating the same things they learned as a kid. Never stopping themselves to consider that maybe what they're senses are telling them(that the Earth is flat for instance).
And then, around 26:30, Jacob says "thou shall not question." He shows, like James Burke monks of a monastery, who live their regimented lifestyle. He's talking about Erasmus, who experienced the robotic lifestyle. Jacob quotes Erasmus, "a heathen wrote this to a heathen. Yet, it has justice, sanctity, truth. I can't help but refrain, "Saint Socrates, pray for me."
Being conditioned is like having provincial ideas above. The spiritualists will often say that mathematical science is mechanical, and that it's not the only way to knowledge - that there must be some kind of spiritual knowledge. A knowledge that mathematical science can't get to. As I explained above about abstraction, abstraction is a concept that is formed by making connections to the world. Yes, you start by idealizing, but then you generalize - or, make connections. This is how mathematical science progresses. Mathematical insight is looking beyond what the senses tell you. As explained above, with the Buddhist monks, it's the religious ideas of "everything is relative, and the universe is always changing; so, it's not worth learning, or questioning" that is mechanical. It's these societies that makes for a regimented lifestyle.
I don't get into much of even the wondrous ancient mathematics, in this Gospel of Truth. I just present the evolution of knowledge from the mythology side. But, I did start off by hoping to find some connections and evolution from mythology to mathematics. But, due to the above Jacob Bronowski's philosophy of Mathematics as summarized above, and the evidence of tally sticks going back tens of thousands of years(around the same time as the Cave paintings), I no longer believe that mathematical science evolved out of mythology.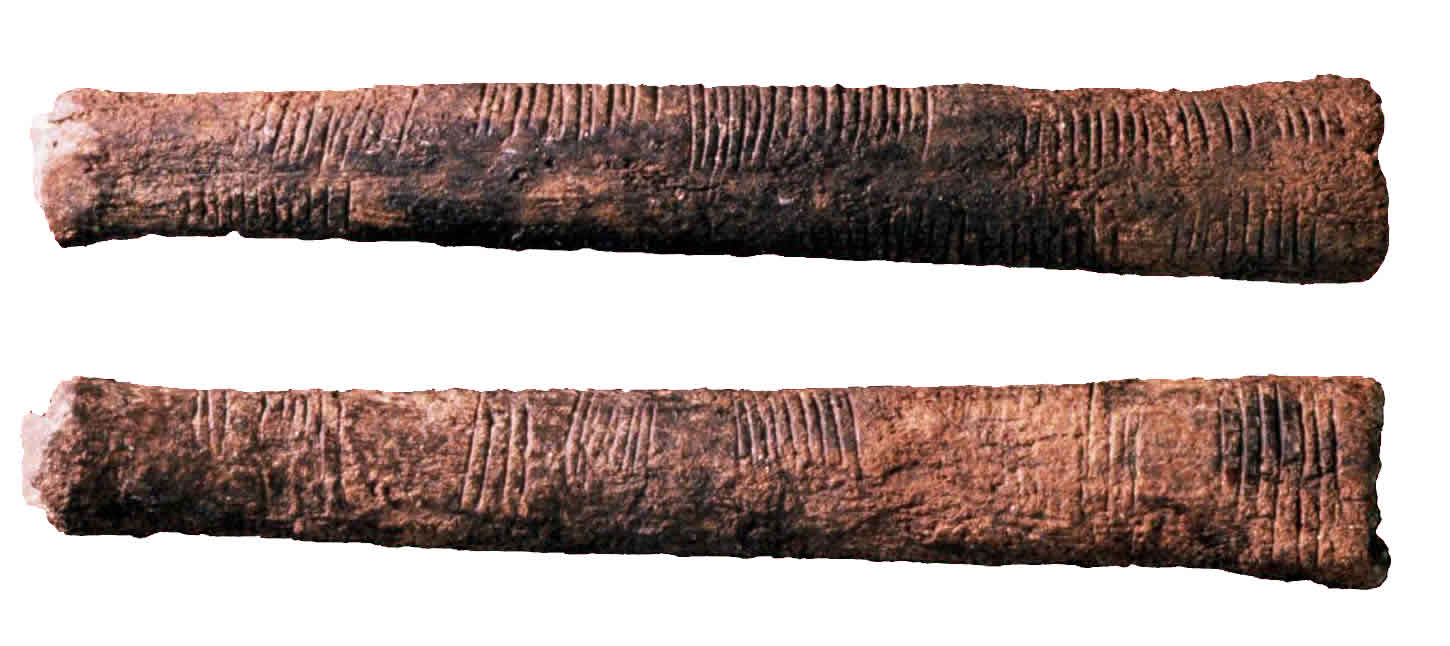 - image of lebombo bone - a 40,000 year old tally stick
I now view mythology as more like the product of "universe solving" before the requisite mathematics was sophisticated enough to solve things scientifically. Mankind is often impatient to solve the universe all in one go. Or, really, to sidestep having a real answer.
Unless you believe life is a static structure, then one has to conclude that life evolves. Mankind has evolved culturally - not just biologically. Other life has shown some kind of technological use - beavers build great dams, birds make nice little nests, spiders make silk webs, and the list can probably go on. But, none of those, including some close primate relatives, has gone through the same cultural evolution, so far, as Mankind.

Our cultural evolution has led to life being able to know the universe. Being able to know the universe almost defines Humanity from the other life on planet Earth. Knowledge is for Mankind about language. - Or, some kind of language.

It's probably not accurate to say that we started out with little knowledge and progressed to ever more. Although, there is some of that effect. But, the line of primates that led to us certainly knew lots of things, just like the birds know when how to hunt - and likewise for the big cats and other life. But, our language knowledge evolved from less well defined ideas to defined enough to be able to predict things about us and the universe. I like Stonehenge and all the other circular structures found in Europe because they illustrate how we can have some kind of well defined knowledge and yet have to express it with not so well defined understandings.

I mean how the stone blocks that are set in place in a precise enough arrangement to mark the equinoxes and rising of stars are themselves not built to precise specifications.

A picture of Stonehenge,
The Hebrews are transitioning from statue gods/idols, to a sky god, Psalm 115:2 - "Wherefore should the nations say, where then is there god? . . . further in Psalm 115:3 - "But our god is in the heavens" . . . and Psalm 115:4 - "Their gods are silver and gold, the work of men's hands." This quote alone establishes the fabrication of god(so), whether made of gold, or moved to Heaven, so their god cannot be found, questioned, and disproved. See my logical/deductive disproof of god(so) in the appendix A at the very end of this Gospel of Truth. This Psalm 115:4 establishes a part of the logical disproof of god(s).